Fight disinformation:
Sign up
for the free
Mother Jones Daily
newsletter and follow the news that matters.
As a service to our readers, every day we are delivering a classic moment from the political life of Newt Gingrich—until he either clinches the nomination or bows out.
As we've documented previously, shortly before kicking off his presidential campaign last spring, Gingrich deleted much of his Twitter archive. Prior to that point, @NewtGingrich had offered a snapshot of his soul—a cornucopia of restaurant reviews, musings about dinosaurs, and condemnations of Sonia Sotomayor. And, for a week-long period in 2010, a space for Gingrich to vent about President Obama's hand-off approach to the Somali pirate menace.
Obama, according to Gingrich, was guilty of appeasing the ruthless corsairs. As he put it: "The correct answer to piracy is to destroy it not negotiate with it Seals can retake the lifeboat Track every boat leaving somalia" (sic). Gingrich argued that Obama needed to outline "the rules of civilization" and make clear that the United States wouldn't be pushed around. This sequence, flagged by Tommy Christopher, was typical: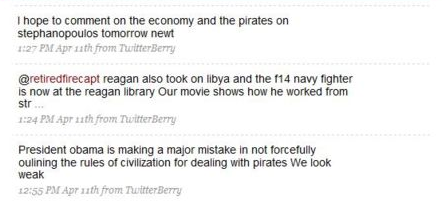 And then this happened.