How do you assess the health of a marine invertebrate—namely Antarctic krill—when there's no historical baseline to measure it against?
In an intriguing piece of detective work reported in PLoS ONE a team of researchers from China and the US turned to analyzing old seal hairs to determine changes in abundance of krill in the past century.
Antarctic krill, Euphausia superba, is a keystone species in the Southern Ocean and the primary consumer in a foodweb supporting fish, penguins, seabirds, seals, and whales. They school in swarms of up to of 30,000 individuals per cubic meter and are perhaps the most abundant animal on Earth, with a total biomass estimated at ~379 million metric tons.
In the video below (starting at 00:01), you can see humpback whales bubble feeding on krill in Antarctic waters. 
There's evidence of a decline in krill biomass in parts of Antarctica in the past 30 years—but when did it begin?
To look deeper into history, the authors analyzed core samples from lake sediments near an Antarctic fur seal colony on King George Island in the South Shetland Islands off the Antarctic Peninsula. They dated the fur in the cores via stable carbon (δ13C) in the samples. They inferred the abundance of krill in the seals' diet via the nitrogen (δ15N) isotopes in the fur. From the paper:
Since Antarctic fur seals feed preferentially on krill, the variation of [nitrogen] in seal hair indicates a change in the proportion of krill in the seal's diets and thus the krill availability in local seawater.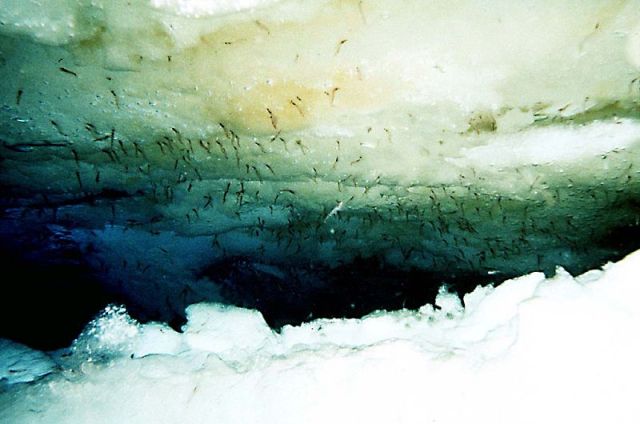 Their results indicate that krill began to decline in the diet of fur seals in this part of Antarctica nearly a century ago. That time frame correlates with increasing sea surface temperatures and dwindling sea ice. (See my post Life Inside the Sea Ice for more about the relationship between krill and sea ice.) From the PLoS ONE paper:
In this region for the past decades, the sea ice shows a decline trend, and this is in coincidence with the decline trend in krill populations. Like the seal [nitrogen] values, the sea surface temperature (SST) anomaly in Southern Ocean (50°S) also shows an obvious increasing trend for the 20th century, and the significant correlation between them… suggests that the inferred decreasing krill population is linked with warming ocean and declining sea ice extent.