Fight disinformation:
Sign up
for the free
Mother Jones Daily
newsletter and follow the news that matters.
This explainer is being updated as more news emerges. We also have photos from the riots, information about how to follow news about the riots in real time, and interactive maps and graphics that trace the violence as it moves. For the latest news updates, click here.
EDITORS' NOTE: As of August 12, 2011, this explainer is no longer being updated on a daily basis. You can read on for the basics of what happened during the UK riots, how the government responded, and why the riots erupted in the first place. If you're interested in the very latest, we also have some recommendations for other sources you can monitor listed below. Going forward, major developments will be noted on our main Political Mojo blog.
The basics: On Thursday, August 4, Mark Duggan, a 29-year-old father of four, was fatally shot by police in Tottenham, a neighborhood in north London. Police had stopped the cab Duggan was in to carry out a planned arrest, and Duggan got caught in the crossfire. On Saturday, August 6, crowds gathered for a peaceful protest against police violence, but the calm soon deteriorated into chaos—and it's unclear what sparked the transition. The New York Times reported:
A statement by Scotland Yard said the flash point came when police cars were attacked at 8:20 p.m. by "certain elements"—a phrase that other police comments suggested meant local troublemakers who used the protest as a chance to act violently. But Tottenham residents talked about rumors of a physical confrontation between a police officer and a 16-year-old girl that enraged the demonstrators.
A raucous, helter-skelter confrontation between hundreds of officers and rioters continued late into the night on August 6. Since then, the turmoil has spread; on Monday, copy-cat riots cropped up in at least eight London neighborhoods, as well as in Birmingham, Liverpool, and Bristol. In each location, rioters are following a similar script: using makeshift weapons to destroy and loot shops and setting fire to buildings. As of Thursday morning, more than 900 people had been arrested in London, and more than 400 were charged with crimes. Metropolitan Police say that 111 officers have been injured.
Why are the riots happening? Media reports and opinionators point to three main causes: racial tensions, high youth unemployment rates, and a desire to loot and profit in the midst of chaos. Al Jazeera columnist Dan Hind's op-ed points out that these causes are pretty intertwined:
So there is no single meaning in what is happening in London and elsewhere. But there are connections that we can make, and that we should make. We have a major problem with youth unemployment. There have already been cuts in services for young people. State education in poor areas is sometimes shockingly bad. Young people cannot afford adequate private housing and there is a shortage of council-built stock. Economic inequality has reached quite startling levels. All this is the consequence of decisions made by governments and there is little hope of rapid improvement.
Somewhat prophetically, a Bloomberg Businessweek graphic titled "The Jobless Young," published this July, warned of youth unrest across the world, including the UK:
Prime Minister David Cameron's employment minister called chronic youth joblessness a "ticking time bomb."
Here are columnist Darcus Howe and former MP Edwina Currie debating the roots of the riots on BBC Newsnight:
Here is video of Darcus Howe discussing the riots with BBC News presenter Fiona Armstrong on Tuesday. BBC publicly apologized to Howe today for Armstrong's suggestion that Howe was a participant in the violence.
Kurt Volker, a senior fellow at Johns Hopkins University's Center for Transatlantic Relations, told Mother Jones that determining one cause for the riots is nearly impossible. "In addition to youth unemployment, I'd also have to point to a general sense of unease," he says. "With austerity cuts, controlling the debt, watching what's happening in the eurozone. It's just gotta be very unsettling for people. You take this element of great uncertainty, and it has somehow turned into this."
Some have speculated that the News of the World scandal fueled a frustration with Scotland Yard that came to a head with the Duggan shooting last week. Volker doesn't think it's quite so simple. "I wouldn't single out Scotland Yard," he says. "I think the Rupert Murdoch thing made people realize there's a whole incestuous, back-scratching elitist class, to use that kind of brazen language. I think that got people. I think that got them saying 'What is all this? There is just no credibility to all this. It's just decrepit.' So this is a little bit more frustration and being fed up with the entire establishment."
What role are social media platforms playing in the unrest? Blackberry Messenger (BBM) is to the UK riots as Twitter was to Arab Spring protests. Though Scotland Yard has been monitoring Twitter for signs of additional riots, multiple reports note that many of the rioters are communicating via BBM. Blackberries are the preferred smartphone of British teenagers, perhaps because BBM's are free—and aren't traceable. And like Twitter, BBMing enables you to send messages to a large audience. Blackberries have become so essential to the rioters that the UK newspaper the Guardian has opened itself up to messaging from the general public so as to better report the news in real-time.
How is the government responding? On Tuesday morning, Prime Minister David Cameron—who cut off an Italian vacation to return to London for crisis management—met with members of COBRA, the UK's emergency response committee. (The name comes from the Cabinet Office Briefing Room, where the team meets). After the meeting, Cameron announced that the number of police officers deployed throughout London would be increased to 16,000 (a 10,000 person jump), that all police leave had been canceled, and that court proceedings would be expedited to ensure that rioters were punished in a timely fashion. The prime minister also said that parliament would be recalled from its summer recess for a one-day session on Thursday. A second COBRA meeting convened on Wednesday morning, where Cameron extended additional resources to police—including permission to use rubber bullets, and plans to make water cannons available at 24 hours' notice (though police have been clear about not yet needing to use one). Police have also activated their "Section 60" privileges, emergency rules that allow them to legally stop and search people in the street. London Mayor Boris Johnson, who was on vacation with his family, has also returned to London early to handle the chaos, as have Labour Party leader Ed Miliband and numerous other officials.
Watch Cameron's statement on the unrest:
What are the locals saying about it?
Natalie Cohen, Primrose Hill resident: "I'm not particularly concerned because we live in an affluent, residential area, so I'm not sure what they would come to loot down here. But we're just completely shocked. When my mother [mentioned the riots on Sunday], I thought, 'She must have misheard something—Why would there be riots going on in London?' …I heard there were no more cells to put these people in. The whole thing is getting out of hand, really."
Marya Hannun, Hackney resident: "All night last night, we heard sirens going by and helicopters overhead. It felt a bit like a war zone… It seems like there is a general disregard for authority—a sort of 'anything goes' attitude in the areas where the looting has been. It's a problem that people feel disconnected enough from their city and community to cause so much damage and violence. Locals have been pretty angry, but a lot of people are also seeing this as a wakeup call to maybe examine why young people have been driven to the brink this way."
Here is a video of a local West Indian woman castigating rioters for their violence:
Here are some photos of the riots: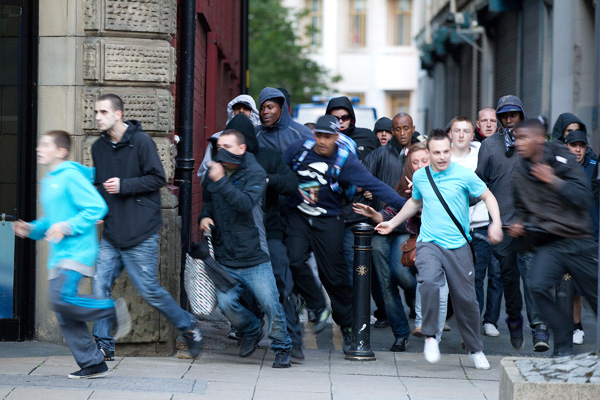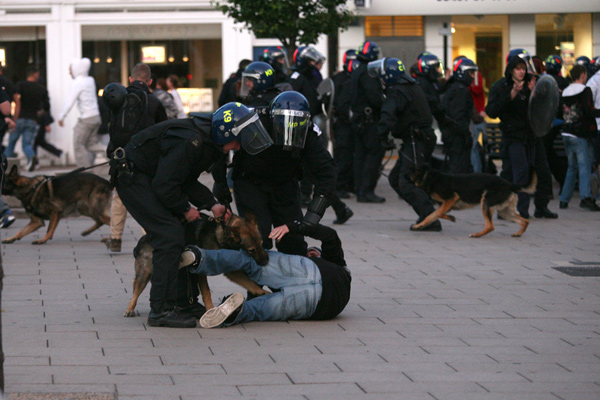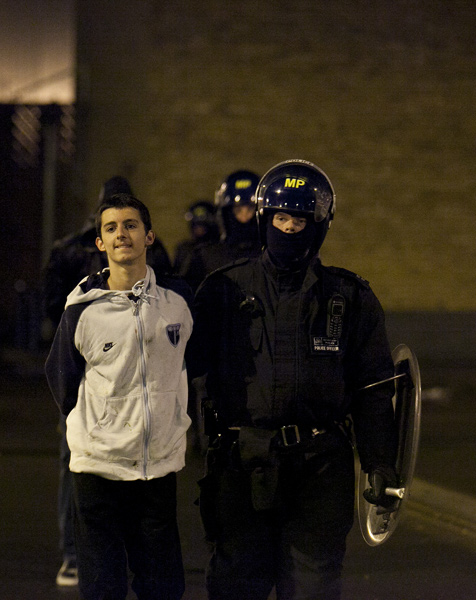 Here is an August 8 video of police and rioters clashing in Woolwich, London:
UPDATE, Wednesday, August 10: A heavy police presence of 16,000 officers in London last night kept the city relatively calm. But the violence continued in other communities, including Birmingham, Manchester, and Gloucester, where there were fewer police to enforce order.
The riots' death toll rose to four after a car ran over three men attempting to guard their Birmingham neighborhood against rioters and looters. The Guardian reports:
West Midlands police arrested a man near the scene and recovered a vehicle, which forensics experts are examining. They later launched a murder inquiry… [A] group of British Asian men said they had seen…the victims flung into the air as a black Audi rammed into them. One, who declined to give his name, said: "Of course it was deliberate. No way was it an accident. The driver went on to the pavement and rammed them. He knew what he was doing."
UPDATE 2, Thursday, August 11: Five days after the riots erupted, England's cities, including riot hot spots in London, Birmingham, and Manchester, experienced their first relatively calm nights. The New York Times reports:
With thousands of police reinforcement on the streets, heavy rain in some areas and residents in some places patrolling their own residential areas, there were no new reports of major violence overnight. Despite the apparent lull, concern was growing about many of the ethnically segregated districts battered by the rampages, particularly Birmingham, Britain's second-largest city, where the police and political leaders worried about a potentially explosive new pattern of interracial violence that could be set off by the past days and nights of mayhem.
During a candlelight vigil for brothers Shazad Ali and Abdul Musavir, 32 and 30, and Haroon Jahan, 19, the three men killed Tuesday night, members of local Sikh and Muslim communities discussed concerns about how to diffuse heightening racial tensions.
Here is a video of the vigil:
UPDATE 3, Thursday, August 11: Starting last night, courts across the UK stayed open throughout the night to deal with some of the more than 1,600 people arrested during the riots. The Guardian is maintaining a detailed list of all riot-related cases and convictions processed so far in the UK court system. A glance at the roster shows those being tried for rioting and looting are mostly male, young, and unemployed.
UPDATE 4, Friday, August 12: The riots' death toll now stands at five after an elderly Ealing man succumbed to his injuries late Thursday night after being brutally beaten during the riots. The Telegraph reports:
Richard Mannington Bowes, 68, died from head injuries days after the attack in Ealing, west London on Monday night. He was pictured lying face down in a pool of blood after being assaulted while trying to stop youths setting fire to large rubbish bins across the green from the flat where he lived alone. The suspect was held in west London on suspicion of murder, rioting and carrying out three burglaries, Scotland Yard said.
The total of riot-related arrests is now around 1,700, but the number is changing. The Greater Manchester Police department has created a Flickr photostream frequently updated with surveillance images of individuals rioting and looting; citizens are encouraged to call and identify anyone they recognize.
Maps and Graphs: For quick context, check out these visualizations of what's going on. HuffPostUK blogger @JosephStash has created a Storify of the Manchester riots, while this map lends credence to the idea that poverty is, at least in part, fanning the riot flames—it shows locations of the riots, superimposed over a map showing neighborhood poverty levels. Click here for an interactive map of where incidents are happening.
How can I follow news about the riots in real time? Use Twitter to follow either #UKriots or #Londonriots. Also, follow Guardian editor and reporter @PaulLewis, who's reporting on the riots and tweeting developments live. For official police updates, follow London's Metropolitan Police Service (@metpoliceuk) and the Greater Manchester Police Feed (@gmpolice). We'll update this post as the situation unfolds. You can find other coverage of the riots at the Guardian and BBC News.