Fight disinformation:
Sign up
for the free
Mother Jones Daily
newsletter and follow the news that matters.
I know of no other artist who wields insight, emotion, and intellectual heft—not to mention gorgeous technique—to examine the environmental ills besetting us today. Gail Potocki's landscapes are catastrophes unfolding before our eyes—in the sea, in the air, and on the land. Yet her human subjects, shattered and vulnerable, are creatures of exquisite hope… precisely because of their melancholic awareness of their plight.
I asked Gail to tell me about each of these paintings. Of Icarus (above), she wrote:
"Influenced by Icarus ignoring his father's warning and flying too close to the sun; I saw similarities in this myth with nature's warnings of our own possible self-destructiveness. In the case of Icarus here, his wings have been stolen from the dead bird that he has slung over his shoulder."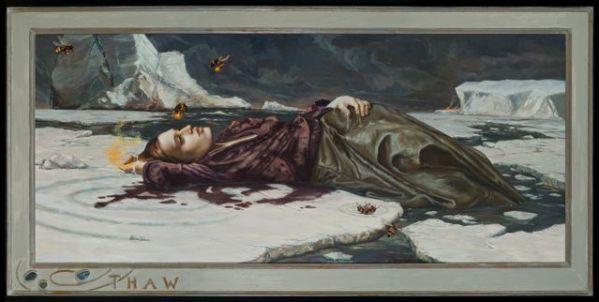 About Thaw, Gail said:
"Both the bees and the woman are out of place in this landscape. The bee brings a fleck of light to the woman representing our dependence on them as life givers/pollinators."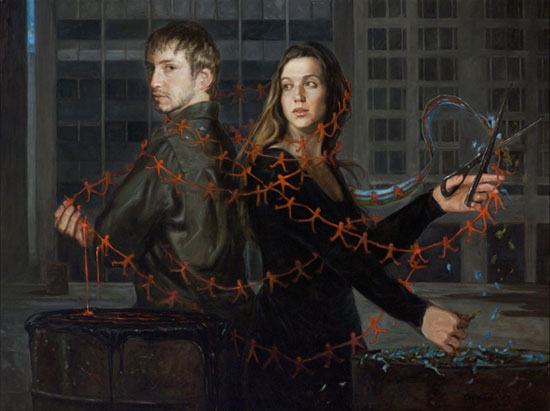 Overflow:
"My concern about human population growth is represented by the two people interlaced in the human paper cutouts. The background is a solid mass of buildings where only a small square of sky shows through as all of the landscape becomes consumed."
"I've played with another idea of the disappearing bees, battered and shipwrecked against the rocky shore."
"With animals trapped in the plasticized water, the figure in this painting recoils from the Grim Reaper-like seabird as she bears witness to an omen of the future of our oceans."
"This is symbolic of deforestation's effect on the landscape. The woman/tree hybrid catching fire represents all of humanity's attachment to nature and how our fates are intertwined."
Gail paints in Michigan. I picture her world as a snowy canvas.
Here's what she told me about her relationship between her natural neighborhood, her work, and her audience.
I am definitely more productive overall in the winter. I spend most of the year at my studio in Michigan (right in the middle of the snow-belt) so I love to be in my warm studio listening to music and painting when there's a blizzard outside. I try to transfer some of the drama from the weather into the work.

Also, the view of the open field behind my studio ignites my creativity. Although I am not really a painter of landscapes, being surrounded by all this natural beauty inspires me to create narratives about it and how our actions affect the environment.

I am not naïve enough to believe that 'art can change the world,' but I do feel that my goal as an artist is to try to bring things to peoples' attention that they might not normally think about.
For more on Gail Potocki, check out her website, plus this stunningly beautiful book, The Union of Hope and Sadness, written by Thomas Negovan, director of Century Guild, the gallery Chicago representing her.