Editor's note: Mac and MoJo photo editor Mark Murrmann have been in Haiti for the past two weeks. Read her previous posts here, and read her features on AWOL aid and the rapists terrorizing the tent camps. And check out more of Mark's photos here.
The tent cities that hold some million people left homeless by Haiti's earthquake last year have a serious rape problem. With no security, no lights, and a dense, often desperate population, the camps are hotbeds of sexual violence. When I met with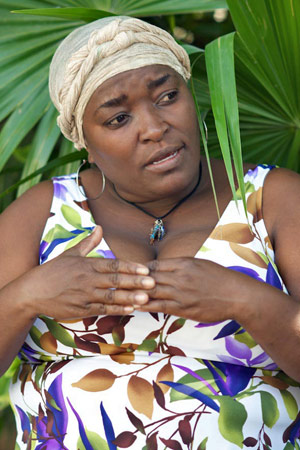 FAVILEK (a Creole acronym for Women Victims Get Up Stand Up), a local group that advocates for women's rights, in September, it was hearing from several new rape survivors every week. And the organization's services cover only a dozen camps. Out of more than a thousand.
I caught up with Bazelais the other day in Port-au-Prince. For lack of funding, FAVILEK still didn't have an office; we met in a driveway of another NGO's office, while dozens of FAVILEK members packed into an unlit concrete shed in the back for a meeting. Bazelais explained that her group is still getting several calls a week from women who have been raped. It is currently trying to care for four women pregnant with the offspring of their rapists.
Bazeliais wants her group to be able to help victims by getting them out of the camps and away from the violence. Long-term, she said, "we want to give them education and possibilities and jobs," but "we can't even give them food." She said that camp dwellers have been so hungry for so long that she's now seeing the spread of child prostitution.
So, I asked, had FAVILEK seen any improvements in the rape crisis since we'd met four months ago?
Bazelais didn't hesitate for one second. "No."