Fight disinformation:
Sign up
for the free
Mother Jones Daily
newsletter and follow the news that matters.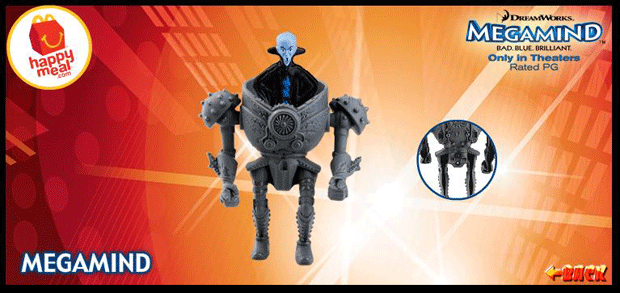 It's a battle straight out of the latest DreamWorks movie: The "bad, blue, and brilliant" Megaminds of San Francisco's ultra-liberal Board of Supervisors have finally conquered their slick, good-looking, Metro Man nemesis, Mayor Gavin Newsom. Yesterday the board overrode a mayoral veto to ban McDonald's from offering free toys inside its high-fat, vegetable-scarce Happy Meals. Any local kid who wants to reenact the drama better hurry, because San Francisco McDonald's restaurants won't be offering their plastic Megamind and Metro Man figures much longer.
Notwithstanding a recent Onion headline, the law doesn't totally ban Happy Meals and the toys that they contain. Instead, it limits Happy Meal toys to McDonald's meals that meet certain health and nutritional benchmarks, such as maximum sodium levels and minimum fruit and vegetable content. Newsom opposed the law because "Parents, not politicians, should decide what their children eat," he explained in a statement. The sponsor of the law, Supervisor Eric Mar, countered that "this is a simple and modest law that holds fast food accountable."
According to Yale University's Rudd Center for Food Policy and Obesity, the fast food industry spent $4.2 billion on advertising in 2009; some 40 percent of preschool-aged children ask to go to McDonald's on a weekly basis and 84 percent of parents have taken their children to eat fast food at least once in the past week. Only 12 out of 3,000 kids meals at 12 popular restaurant chains meet basic childhood nutritional guidelines.
The law gives McDonald's and other restaurants until December, 2011 to bring their Happy Meals up to standard. "We are extremely disappointed with the decision," a McDonald's spokeswoman told CNN. But instead of moping, maybe McDonald's should just adopt some of the can-do spirit of its Happy Meals' superheroes. Next up on its plastic toy rotation: The Transformers.