Fight disinformation:
Sign up
for the free
Mother Jones Daily
newsletter and follow the news that matters.
Okemah, Oklahoma—It's hard to imagine a quiet town like Okemah spawning a rabble-rousing, labor-loving, leftist. But then, once you walk around for a bit, it's also really hard to imagine Woodrow Wilson Guthrie coming from anywhere else.
The legendary folk singer's childhood home in Okfuskee County sits halfway up a hill ("the hill," if you ask for directions in town), one block south of the public library, roughly equidistant from Oklahoma City, Tulsa, and the surface of the sun (about an hour each way, I think).* If you drove 14,000 miles to see the home of a folk hero, it'd be more than a little dispiriting to discover it'd been turned into a McMansion with a swimming pool for the poodle and quarters for the servants. But don't worry; Woody Guthrie's childhood home is totally the mess you'd hope it'd be.
The house was torn down decades ago, leaving only the stone foundations, and, in true Guthrie fashion, it's been commemorated by a piece of folk art. A woodcarver named Justin Osborn, who lives and works right across the street on a plot cluttered with his creations, carved up an oak in the front yard of the old Guthrie house and made a monument: There's an acoustic guitar carved on top, "This Land is Your Land" in big letters on one side, and "Okemah" carved on the other.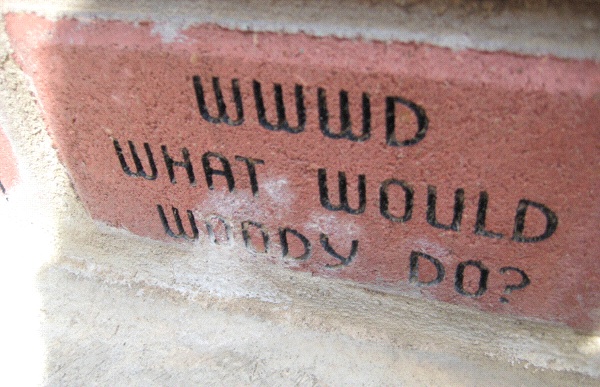 Driving through Okemah, you might get the sense that he's the biggest thing to ever happen to the place. But that wouldn't be entirely accurate. "All the old-timers here all thought he was a communist," says Teresa Labbe at the Okemah Public Library. "And even as the Woody Guthrie Festival was just getting started, there was a lot of controversy. Even now, some of the old-timers in town don't like him."
No kidding. When the town first tried to honor the singer with Woody Guthrie Day in 1967, the American Legion sprang into action, successfully blocking the holiday on the basis on Guthrie's lefty leanings. It wasn't quite Derek Zoolander returning to Appalachia, but Guthrie was't exactly lionized by his neighbors, either.
Labbe says the library has some original Guthrie yearbooks and recording down in the vault, but their display items are somewhat limited—a portrait of the artist, in middle age, looking down from above the mantle; and most notably, a picture book, a gift to the library, prominently displayed on a shelf.
If the subject weren't a local boy who made it big, Teresa thinks there's no way in heck that book would find its way onto a bookshelf in Okemah. Woody Guthrie: Poet of the People discusses "This is Land is Your Land," and doggedly prints the full seven verses, which, as it helpfully notes, Woody felt were all too often ignored. And it includes lines like this, discussing Woody's passions for the labor movement: "When the people joined the union, they belonged to something bigger; one person was no longer just a drop of water, but part of a powerful rushing river." You can imagine how books like that can go over at the PTA meeting.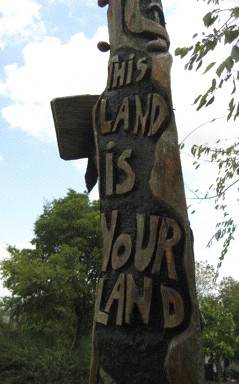 Back in Memphis, we parked outside Graceland and watched for 15 minutes as carload after carload of pilgrims braved the rain to scrawl personal messages to Elvis at the front entrance, as if they were leaving prayers at the Western Wall. In Okemah, it's a bit different, partly because no one ever dresses up like Woody Guthrie to go to a football game (although that would be awesome), and partly because his artistic brilliance existed more explicitly as a piece of a movement rather than an end in itself. The big Guthrie memorial downtown, where there's a statue of him strumming the guitar, a mural, and a boatload of engraved bricks, is as much a monument to Guthrie as it is to his cause—workers. (Today, just 6.6 percent of Sooner State workers are union members—a little more than half the national average.)
"Union Pay for a Union Day," reads one brick (from the Central Oklahoma AFL-CIO); "This Machine Kills Fascists," says another, a nod to Guthrie's guitar label; and at Woody's feet, as a courtesy offering should the singer wish to attend, someone's left a playbill for "Laborfest," an event in Oklahoma City featuring dramatic readings, a documentary screening, and murals. Another brick puts it bluntly: "WWWD: What Would Woody Do?"
That question's kind of up for debate, I guess, but I like to think the old balladeer would be pretty satisfied with what his reluctant hometown's done in his name. The monument's full of hometown pride, artistically sound, and, to the end, dutifully subversive.
*Not that anecdotal observations should ever, ever be used as evidence for or against global warming, but given that Sen. James Inhofe believes that a snowstorm in Washington, DC disproves the whole theory, you kind of have to wonder how much time he actually spends in his home state.