Fight disinformation:
Sign up
for the free
Mother Jones Daily
newsletter and follow the news that matters.
Who owns the Gulf of Mexico? That's a question you have to ask while perusing Offshore magazine's 2010 poster of the Gulf—downloadable here as a large PDF, but well worth checking out. Where most people look at the Gulf, they see a vast marine ecosystem, wetlands, and, until recently, gorgeous beaches.
What energy executives see is a massive grid, tangled with scores of oil and gas pipelines and rival fields with macho names that sound like heavy metal bands, black-diamond ski runs, and weapons systems. (See "Quiz: What Do BP and Kurt Cobain Have in Common?") Here's a small detail, slightly blurry, but you get the point. (Red lines are gas pipelines and pink are gas fields, green lines are oil pipelines and green blurbs are oil fields.)
 
Next, here's another map detail from farther offshore. I circled the site of the ongoing BP Deepwater Horizon spill in yellow.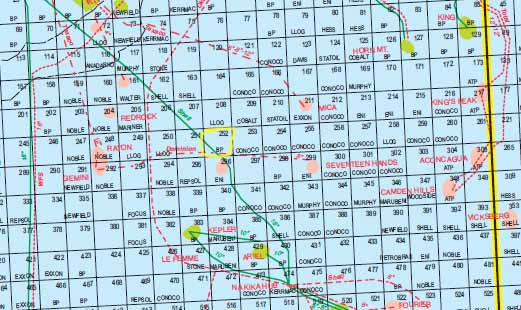 What these maps really show is the degree to which the Gulf has played host to a feeding frenzy by big energy interests that snap up drilling leases on the cheap. Each of these numbered squares represents a lease site. As you can see from this Offshore magazine chart, the highest bid for a lease this year was about $53 million. Which, when you consider the value of the oil coming out of the Gulf, is chicken feed.  
You'll also note that bids are way down from their peak in 2007-2008, but making a strong comeback. As Offshore notes here (scroll down), 77 companies put in 642 bids on 468 tracts totalling more than 2.4 million acres. But the next lease sale, slated for August 18, is unlikely to go so swimmingly.
UPDATE: Here's another map that shows more clearly the proportion of the Gulf under lease.
You can find all of our breaking coverage of the BP disaster here.
Follow Michael Mechanic on Twitter.