Fight disinformation:
Sign up
for the free
Mother Jones Daily
newsletter and follow the news that matters.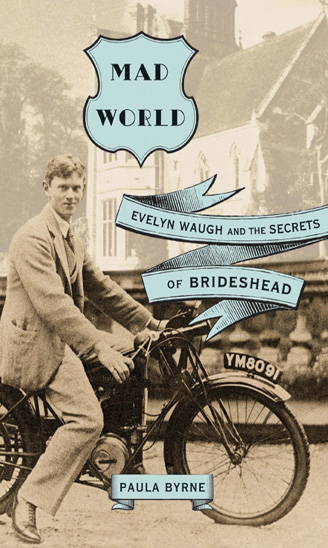 English comic novelist Evelyn Waugh's close relationship with the aristocratic Lygon family forms the basis for a compelling narrative in Paula Byrne's new biography, which shows the extent to which they served as models for the characters in Brideshead Revisited, one of his greatest works.
Waugh met Hugh Lygon—who later became tragically alcoholic, and inspired the character of Sebastian Flyte—at Oxford, where the two carried out a homosexual love affair. After the publication of Decline and Fall and Vile Bodies—a scathing satire of 1920s London and its party-wild "Bright Young Things" (a circle in which Waugh traveled, and which produced his first, most disastrous, marriage)—Waugh began frequenting the Lygons' country estate, Madresfield, where he grew close to two of Hugh's four sisters, Mary and Dorothy. Byrne provides a page-turning account of a scandal involving Lord Beauchamp, their father, who was exposed as a homosexual and hounded out of England by his brother-in-law, the Duke of Westminster. Waugh wrote about this incident in A Handful of Dust, which featured an old-fashioned gentleman exiled from his country home—a character that, in Byrne's words, "owes a profound debt to Evelyn's knowledge of the last man to be hounded out of England: Earl Beauchamp."
Waugh has been criticized for snobbery by some biographers and critics, who interpret his close-knit friendship with the Lygon girls and his obsession with Madresfield as aristocracy-worship. (Waugh was the son of a middle-class publisher.) Byrne takes pains to defend Waugh's "love affair" with the family, and the portrait she creates here is a generous one, providing a nuanced view of the writer's life as it concerns the Lygons. The importance of these friendships to Waugh becomes abundantly clear through Byrne's able scholarship—previously unutilized private papers have been pored over, passages of letters reproduced in full where once they had been published in censored form—and the result is a wonderfully illuminated perspective on Waugh's sexuality, his sense of humor, and the devotion and fascination that drew him towards the Lygon family. All of this leads Byrne to conclude that "what he is really in love with is the family, not any one member of it," and that this makes Brideshead "one of the great expressions of what might be called the bisexual imagination." 
An excellent, engrossing biography—even those who have never had the pleasure of reading Waugh will find Byrne's work fascinating, and will certainly feel compelled to seek out the works drawn from this remarkable period in the novelist's life.