Fight disinformation:
Sign up
for the free
Mother Jones Daily
newsletter and follow the news that matters.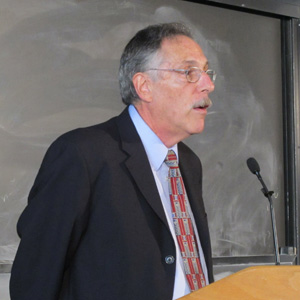 Peter Diamond, one of Barack Obama's nominees for an empty Fed seat, was "sent back" by the Senate yesterday. But what does that mean, anyway? BusinessWeek explains what happened after Diamond was approved last week by the Senate Banking Committee:
Under Senate rules, all nominations that aren't completed before a lengthy recess go back to the White House and have to be resubmitted unless the Senate unanimously agrees to hold onto them and act later, Stewart said. Routinely, the Senate does agree to retain the nominations.

If a single senator objects, the name goes back to the president's office. In Diamond's case, at least one senator did that. Stewart said he didn't know the identity of the lawmakers.
Italics mine. So yet another Senate norm gets tossed on the ash heap of history. Nice work, Republicans. As an aside, note that the "Stewart" in the passage above is Don Stewart, a spokesman for Senate Republican Leader Mitch McConnell, and the proposition that he doesn't know who held up Diamond's nomination is pretty unlikely. It was Richard Shelby, the increasingly cranky senator from Alabama who, as near as I can tell, is still nursing a farrago of grievances over the fact that Senate Democrats weren't willing to capitulate completely to his notions of how the financial reform bill should have looked. His reason for opposing the noted MIT economics professor? "I do not believe the current environment of uncertainty would benefit from monetary policy decisions made by board members who are learning on the job," Shelby said mysteriously, and it's true that Diamond isn't an expert on macroeconomics — though Wikipedia tells me that he is an expert on government debt and capital accumulation, capital markets and risk sharing, optimal taxation, search and matching in labor markets, and social insurance. In any case, last night I decided to go to bed rather than investigate this further, but today Matt Yglesias provides the requisite googling:
Governor Kevin Warsh, who George W Bush appointed in 2006 to no controversy, is 40 and has a JD but no advanced degree in economics or academic research in the field at all. Elizabeth Duke who Bush also nominated and who Shelby doesn't seem to have a problem with has no advanced degree in any subject and has a bachelor's degree in drama. Daniel Tarullo, who Barack Obama appointed and who was confirmed with no controversy, has a JD and a MA, but again no PhD. Sandra Pianalto, President of the Cleveland Fed, has an MBA and a MA but no PhD.

Not that there needs to be a rule that FOMC members should have PhDs in economics. But the point is that Diamond would clearly raise the level of macroeconomic expertise on a board that's currently dominated by bankers and bank regulators.
So Shelby is, to use a technical term, just being a prick. Diamond is perfectly well qualified, but apparently has views (for example, that deflation is bad and Social Social Security taxes should go up) that Shelby doesn't like. So he's going to force Obama to renominate him just because he can. Ladies and gentlemen, the United States Senate. Greatest deliberative body in the world. Don't let anyone tell you otherwise.