Fight disinformation:
Sign up
for the free
Mother Jones Daily
newsletter and follow the news that matters.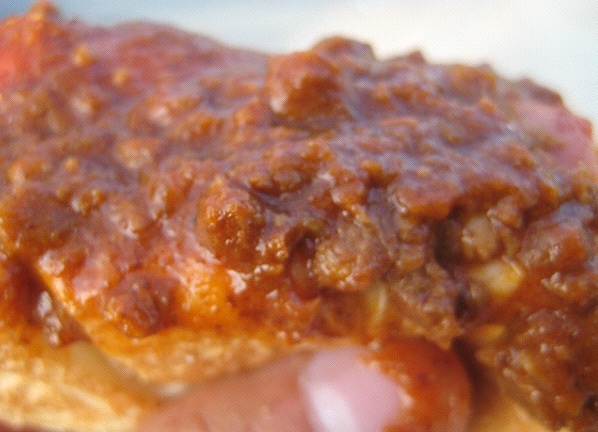 Marion, Alabama—Over the course of this trip, we've occasionally heard conservative talk show hosts lament the demise of what I guess you could call the Freedom to Forage: Apparently, the Obamas (they're working together on this one) have unleashed something called the "Food Nazis," who are heck-bent on confiscating all of your greasy, lardy, breaded, delicious grub. It's unclear what their goal is, exactly, but nothing is safe from the Fried Reich—not family restaurants, not school cafeterias, not even ballparks.
Terrifying.
But also, well, baloney. The other day, Alex says he ordered a bacon cheeseburger that came with mashed potatoes and onion rings on top of the burger. That was an exceptional case, but only just so. In Atlanta, we stopped at The Varsity, a local fast-food joint that's become a go-to spot for politicians and celebrities; there were no fewer than a hundred other people in line when we got there, many of whom ordered The Varsity's signature dish: hot dogs slathered in chili and cole slaw, with a side of onion rings (at least Cole slaw and onion rings, can, if they go back far enough, trace their heritage back to vegetables). If this is the best the Food Nazis can do, Obama's not nearly as dangerous as conservatives make him out to be.
Besides, even if we assume Obama wants to ban fried oreos or something, there are obvious political obstacles: If Obama shuts down all of the diners, where will he (and GOP nominee Haley Barbour) go for photo-ops come 2012? What will they eat at the county fair—arugula? Logistically, it's just an impossible proposition. So long as the political culture is so deeply connected to fast food culture (to say nothing of the legitimately terrifying food lobby), I think our chili hot dogs, half smokes, buttermilk biscuits, chicken and waffles, cheesesteaks, deep dish, pulled pork, and cisterns of sausage gravy aren't going anywhere. But we'll keep you posted.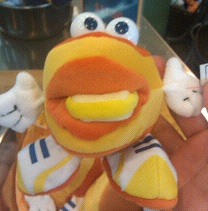 Update: Right after I posted this, we drove to Montgomery to watch the Tampa Bay Rays' AA affiliate, the Biscuits. True to form, their mascot is fluffy buttermilk biscuit named Monte (that's him on the right; note that his tongue is actually a giant lump of butter). If Monte doesn't do it for you, check out his sidekick, Big Mo, an anthropomorphized strip of fried chicken. With any luck, Montgomery will have a whole generation of children who grew up idolizing a 1,500-calorie snack. Anyways, let that be further proof, if you needed it, that the South's heart-stopping culinary culture is still going strong.