Fittingly for a man seen as the first environmentalist, Henry David Thoreau, who described his isolated life in 1840s Massachusetts in the classic of American literature Walden, is now helping scientists pin down the impacts of climate change.
The American author, who died in 1862, is best known for his account of the two years he spent living in a one-room wooden cabin near Walden Pond "because I wished to live deliberately, to front only the essential facts of life." Packed with descriptions of the natural world he loved, Walden is partly autobiographical, partly a manifesto for Thoreau's belief in the rightness of living close to nature. "I never found the companion that was so companionable as solitude," he writes. "Simplify, simplify."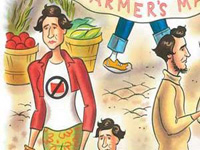 But Thoreau was also a naturalist, and he meticulously observed the first flowering dates for over 500 species of wildflowers in Concord, Massachusetts, between 1851 and 1858, recording them in a set of tables. When Richard Primack, a biology professor at Boston University, and fellow researcher Abraham Miller-Rushing discovered Thoreau's unpublished records, they immediately realized how useful they would be for pinning down the impact of the changing climate over the last century and a half. The timing of seasonal events such as flowering dates is known as phenology, and the phenologies of plants in a temperate climate such as that of Massachusetts are very sensitive to temperature, say the scientists. Studying phenology is therefore a good indicator of ecological responses to climate change.
"We had been searching for historical records for about six months when we learned about Thoreau's plant observations. We knew right away that they would be incredibly useful for climate change research because they were from 150 years ago, there were so many species included, and they were gathered by Thoreau, who is so famous in the United States for his book Walden," said Primack. "The records were surprisingly easy to locate once we were aware of them. A copy was given to us by an independent research scholar, who knew that they would be valuable for climate change research."
After deciphering Thoreau's "notoriously bad" handwriting, and spending "a large amount of time" matching the names used for plants in the 1850s with their modern equivalents, Primack and Miller-Rushing compared Thoreau's data on flowering dates, coupled with research from 19th-century local botanist Alfred Hosmer, with modern data of their own. Looking at 43 common Concord plant species, they found "unambiguously" that these plants, on average, "are now flowering 10 days earlier than they were in Thoreau's time," they write in an article for the journal BioScience.
Over the 155 intervening years, the average temperature in Concord increased by 2.4 Celsius, they estimate.
Primack and Miller-Rushing also searched for hundreds of the plant species mentioned by Thoreau, working with local botanists and naturalists to track them down. After three years of fieldwork, they were forced to recognize that many of the species observed by the Walden author in the 1850s were either no longer present in Concord or very hard to find. They concluded that 27 percent of the species recorded by Thoreau and other botanists were no longer present in Concord at all, and a further 36 percent of formerly common species were now rare. "Thoreau was a keen observer of nature and a dedicated journalist," said Primack. "I am confident that he would have recognized the changing patterns of the timing of natural events in Concord. Thoreau was also an activist, and perhaps he would also be involved in the movement to reduce the greenhouse gases that are linked to climate change."
The Walden author will be involved further, at least obliquely: Primack and Miller-Rushing have now discovered that Thoreau also made detailed observations on the "leaf-out" dates of trees in Concord in the 1850s, and they say it is clear already that trees in Concord are "leafing out" earlier than they did in Thoreau's time. They are now planning more research in this area, guided by Thoreau's notes from a century and a half ago.

This story was produced by the Guardian as part of the Climate Desk collaboration.