Fight disinformation:
Sign up
for the free
Mother Jones Daily
newsletter and follow the news that matters.
[Updated] This much we know: A US citizen born in Pakistan has been arrested for allegedly parking a Nissan Pathfinder in Times Square Saturday night, loaded with fertilizer that doesn't combust, a kid's alarm clock that likely didn't tick, several gallons of gas, some propane tanks, and a few M80 firecrackers. Attorney General Eric Holder has released a statement saying Shahzad was "taken into custody at JFK Airport in New York as he attempted to board a flight to Dubai." There's a lot we have yet to learn about what this news means, but it probably rules out one favorite conservative theory about the attempted bombing—that left-wing protesters took advantage of May Day (aka International Workers' Day) to make a big bang in New York's neon-soaked seat of capitalism. Even before the bomb was found, a blogger at Andrew Breitbart's Big Journalism blog unleashed a post titled: "Note To New York Times, MSNBC, WaPo and CNN: May Day Is Here and So Are the Actual Violent Protesters." (Your money quote: "Leftist May Day protesters are so cowardly, many of them wear masks during their rampages. Look for them in Los Angeles, as well as other major cities in America and Europe.") Another reminded his choir that environmentalists, not Tea Partiers, are the truly violent types.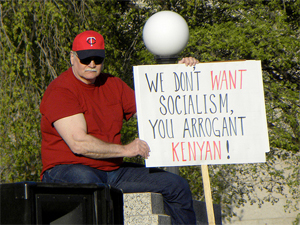 Soon enough, blogger Steve Cooper, who calls himself the Conservative Monster, explicated the Times Square lefty theory:
Yesterday was May 1st, known as May Day to left wing communists that march around the world. Was this another case of left wing terrorism that the media is hiding? The media loves to blame the Tea parties for anything that they can, but is this incident related to the Coffee Parties? The Coffee Parties are the communist, left wing version of the Tea Party movement, but nobody is blaming their activism…

So, we have the suspicious explosion of an oil rig in the gulf that happened the day before Lenin's birthday (Earth Day) and now we have an attempted attack on May Day, another day celebrated by left wing communists. Meanwhile, we are constantly being told that RIGHT WING extremism is a terrorist threat?
Now, bear in mind that this guy also supports the claim that President Barack Obama (whom he calls "long-legged mack daddy") was a CIA-controlled spy in Pakistan while finishing his undergrad degree at Columbia. Cooper's also a little unclear on what the Coffee Party is, which MoJo clears up right here.
The other crazy theories are all predicated on the idea that lefties staged the Times Square attack in order to pin it on right-wingers and Tea Partiers, thus gaining political legitimacy for Obama's socialist agenda of killing everybody who opposes death panels and immigrant takeovers. Witness, for instance, this dispatch from InfoWars, which argues that the left-wing conspiracy is totally proven by the fact that most mainstream media were focusing their attention on a possible right-wing conspiracy. (Huh?)
A variation on this theme: Some news outlets apparently reported that birther and all-around Obama antagonist Larry Sinclair was involved in the bomb plot; he left a semi-coherent message on his website insisting that it tweren't him. He added that unnamed folks have been hijacking his email address and phone number, leaving open the suggestion that left-wing agents provocateurs wanted to frame him for it.
***
Like any holiday built around marching and protests, May 1 has seen its share of violence. In fact, May Day as we know it in the US originated as a commemoration of Chicago's 1886 Haymarket affair, when police opened fire on striking workers, killing four, then did it again the following day, leaving at least 12—including one police officer—dead. "It engraved upon the public mind the stereotype of anarchists and bomb-wielding foreigners, giving lawmakers the impetus to restrict immigration," the Chicago Sun-Times wrote (subscription required) on the 100th anniversary of the melee.
Since then, governments and rightist groups alike have capitalized on threats of May 1 violence by "veterans, socialists, and reds" (that's from the New York Times, believe it or not). In America, May Day meant the "red scare" was an annual affair, with newspapers congratulating commissioners for taking "the traditional police precautions" against "violence by radical groups." That language, from a 1933 story, pretty much mirrored mainstream reportage on May Day since at least 1890: "ANARCHISTS VERY ACTIVE; EUROPE'S WORKINGMEN INCITED TO COMMIT VIOLENCE. FEARS OF DISORDER AT THE MAY-DAY DEMONSTRATIONS — STEPS TAKEN IN ANY CITIES TO REPRESS RIOTING."
But the fear and loathing may have reached its height in 1920, when Attorney General Palmer "revealed" a "NATION-WIDE PLOT TO KILL HIGH OFFICIALS ON RED MAY DAY" to the credulous New York Times :
Members of the Communist Party, the Communist Labor Party and the I.W.W. are said to be planning a May Day uprising in their efforts to force recognition of the Russian Soviet by this Government and the establishment of friendly relations with Lenin and Trotzky. Russian and German agents are alleged to be encouraging the Reds and doing their best to foment trouble among American workingmen.
Ironically, in Poland in the early 1980s it was an authoritarian communist government that assailed the alleged violence of May Day marchers, characterizing Lech Walesa and the marching workers of his Solidarity movement as subversives. They were met on the streets with "tear gas, arrests, curfews and dead telephones," putting the lie to the government's claim that the workers were the source of May Day violence.
In Turkey, leaders of a military coup went so far as to seek the death penalty against 52 trade union leaders in 1981, blaming them for subversive "May Day rallies." The government subsequently issued a blanket ban on May 1 demonstrations.
And Latin America? Boy, let's not even get started on Latin America.
But let's go ahead and revisit the American South, where the specter of communist May Day violence was a big PR coup for Klansmen and "concerned citizens." In 1930s Alabama, thousands of White Legion members were paraded out—with police sanction—to intimidate would-be May Day marchers. Some, as in the case of labor activist Robert C. Wood, were chased and flogged by local reactionaries, according to historian Robert P. Ingalls' "Antiradical Violence in Birmingham During the 1930s."
***
All of which means…what, exactly? Well, there's no question that there were—and are—left-leaning folks in recent history who exhibit violent tendencies. But neither is there any question that the political right has always been adept at fabricating those tendencies where they don't exist, blurring the line between progressives and bloodthirsty terrorists for fun and profit. Which is why, whatever the truth about the Times Square bombing, you'd better be prepared to hear how this is all due to ObamaCare, rampant socialism, military defeatism, and the homosexual lifestyle.